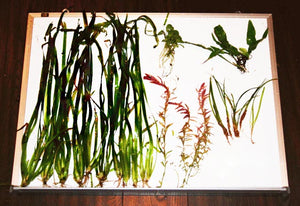 "GREAT START for a planted tank" The Beginner's Planted Aquarium Combo
Beginners Listen Up. This combo is for you. If you are a pro and you know it all, buy plants individually or see what I have shaking with the higher level combos. (Golden Touch Combos are here) IF not: Dear Billy Beginner, I love beginner's because everyone was one at some point and if you get off to a good start you will soon have multi-tank-itis. ( A great problem many planted tank people have) But if you are looking at me for a beginner's planted combo; I am going to keep it super easy for you. These combos are easy plants and will make it so you have success right out of the gate.
Don't ask me if you can swap in plants on a beginner combo. You can't.
If you want specific plants, get them, I sell a crap load of them. IF YOU WANT TO TRUST ME TO HOOK YOU UP WITH PLANTS THAT WONT DIE- THIS COMBO IS FOR YOU. Sincerly, Dustin DustinsFishtanks Beginner planted tank combos are 5 different species of plants that are hardy-that's it. ---I pick them, not you.
A Beginner Planted Tank Combo comes with everything you need to get started....
10 Stems of Jungle Val 5 Stems of Dwarf Sag 5 Stems of Bacopa Monnieri 5 Leaves on a Java Fern 1 Anubias with over 5 leaves.
All for 59$ plus shipping.
Start your tank off right from the start. Start off with a beginners planted tank combo. (You can always add more and different plants later, but this is how you get started)
NOTE: I reserve the right to slightly alter this and all beginner combos based on supply at the time...but they will be hardy plants regardless.
(If the Val isn't great- we aren't shipping it, we might send Hardy Water Wisteria instead for example. We might send Bacopa Yellow Flame instead of Bacopa Monerie ect.)


On a scale of 1 to 10  (1 being plants that can grow in your Toilet)  (10 being near impossible)   THESE ARE ALL  LEVEL 1 to 3  Plants :) 
We believe in starting with EASY AQUARIUM PLANTS.... having success and moving on to more advanced once you have momentum.
To Buy our Growth Juice and Iron Supplements for your plants!!
Take it from our Customers! 
Check out the packaging!
Ok, I know the plants are what's important, but you can tell how much a company care about there product. In this case, package come in a sealed plastic bag inside a insulated bubble bag, and a cold pack without any extra cost. Now the size of the plant 😮, and healthy, I can easily cut the top half and double what I got. So summary, definitely buying more from Dustin 🤙👍
Fantastic quality and value
I am so happy I found this place. I saved a ton of money and the plants came and were immaculate. The only thing I wish was different was if they had circled what plants were in the container rather than just giving the sheet with a bunch of different plants. It was hard to figure out what I had via the pictures. Overall, I would definitely order again, and I highly recommend Dustin's.
Looking great
Plants arrived next day after being shipped in great shape. After being in the tank for a week now they are doing good. Can't go wrong with this combo.
Combo plants
Fair amount of die off happening but the shipment was on a hot day and that likely caused an issue. The variety is really nice and will order again