Un-Boxing & Testimonials
Plants are great every time! Dustin/ Josh always finds a way to add to your order! Can't find anybody better to support. This is FAKE! TANK ON!
Jeffrey Schmid
All your plants are showing new growth and my tank looks great. I wanted to share some pictures. I think it is fun that my fish will have an ocean view where they can watch the whales, (if fish see that far). I'm optimistic that I can get this tank balanced in the years to come.

Oh, and your standard double aquarium light is awesome!

You and Josh are plant artists! That's why you do this, because it is a calling! Artists can't do anything BUT make art. Keep it up, thank you, and tank on!

Trenton C.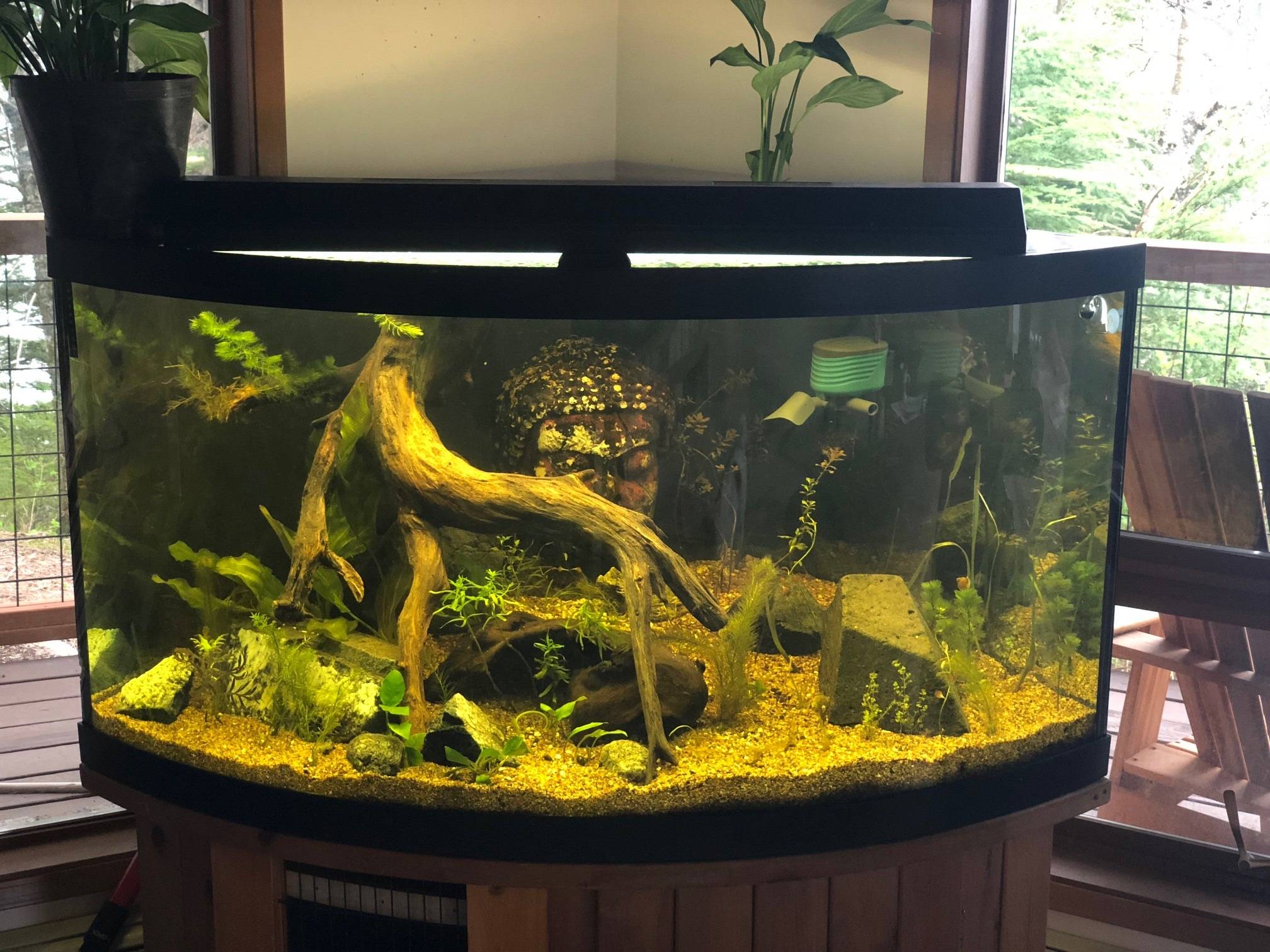 I have received eight orders from Dustin's Fishtanks (and counting), and have had not one issue with any of them. Even when the post office decides to take the shipment on an extended tour of New England in the middle of winter the plants are always in perfect condition. I have two of Dustin's Standard Double lights, they are the highest quality light that I have ever seen or used. I could not be happier with my purchases than I am. I like buying from a good person who employees good people, because they all care.
William M.
04/2018
---
Order looked great, as expected. More dwarf sag than expected, got a free bonus marble queen sword that had no viable roots, but leaves and stems looked good, so I made a temporary spot for it
Kathy C.
04/2018
---
Ok I found Dustin's Fishtanks back in 2014, when I went on an internet search on how to rid my tank of Black Hair Algae aka Black Beard Algae. I had been fighting this war with little results except to watch one after the next anubias succumb to the algae. Following Dustin's advise and using his Plant Booster I had my algae issue under control. I did not deal with Dustin for a while after that because of health issues at my end. But as I worked on my health issues I continued to follow Dustin's advice on keeping BBA under control (Once your tank is infected with BBA there is no getting rid of it totally). Recently I have been feeling a bit better and can give my 125 more attention. What was amazing is how much the plants that survived the BBA had recovered, leaving little room for new plants, however I have never heard Dustin say that you can have to many plants, so I have recently purchased the Large Anubias Package and some other plants from Dustin and to say I was impressed with the size, quantity, and quality of Dustin's plants would be an understatement. They arrive well packaged for the journey, and if you have any issues, all you have to do is promptly contact their customer service and they will make it right.
James W.
04/2018
---
Shipping was fast. Plants look absolutely amazing. Dustin's awesome and I got the bogo deal. Will definitely be ordering some more stuff soon
Dustin L.
04/2018
---
I'm 62 years young & had my first aquarium at 13 yrs old. Never in all these years have I found a. Company that delivers quality plants and support products like Dustin does. Every plant healthy,thriving and timely delivery, the plant juice is amazing! Tank on Dustin & staff!
Tom H.
04/2018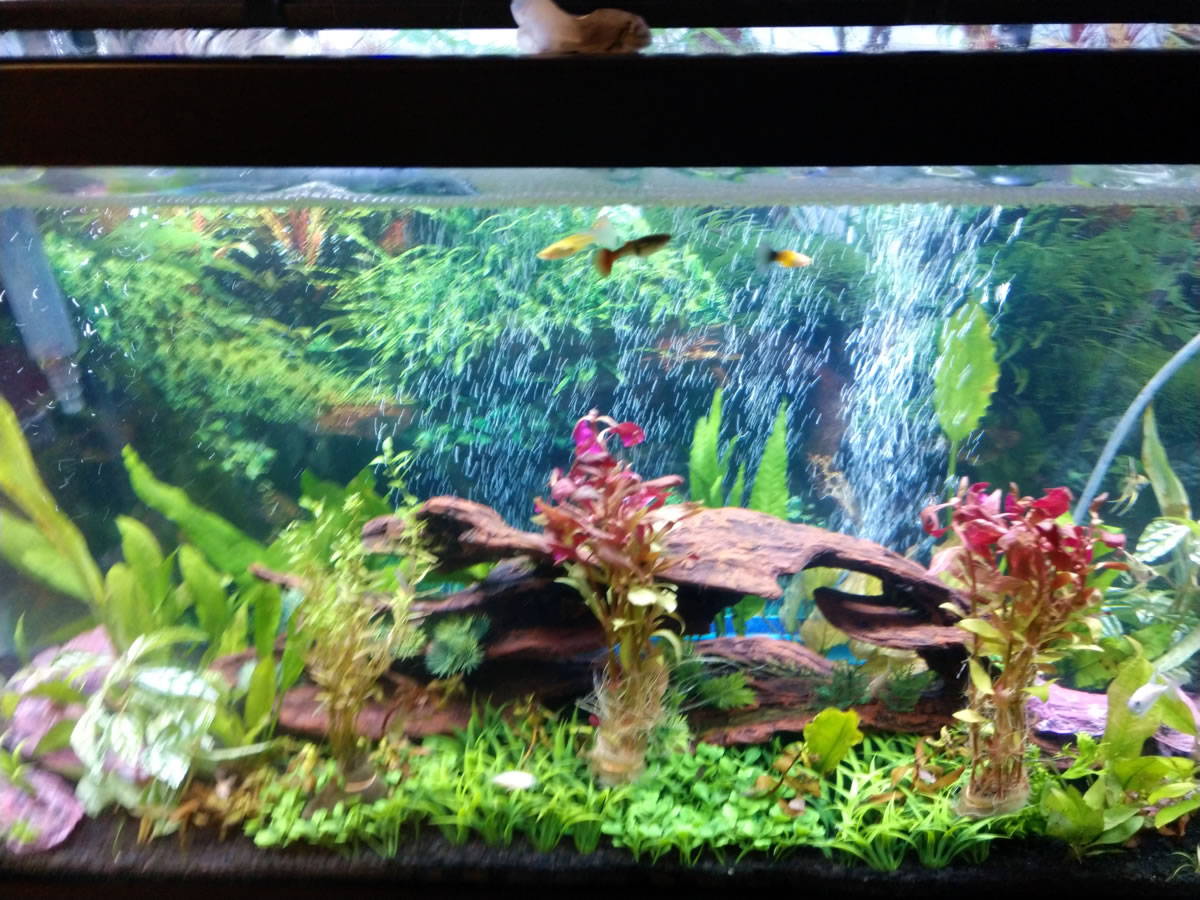 ---
dustins plants are great. they arrived on time and packaged well and they were alive. they are doing very well in my tank. thanks a bunch for the great plants.
Christina M.
04/2018
Every time I order from D. He comes through with quality plants. Everything is green (or red) and healthy. Plus his growth boost is awesome. Don't hesitate, order from him you'll be happy you did.
John F.
03/2018
---
Tanks to all the crew at dustinsfishtanks.com. Your plants are the most healthy,best looking plants I have ever purchased. Your grow juice is like steroids for plants and you shipped very quickly. Thanks again TANK ON D.
Gary G.
03/2018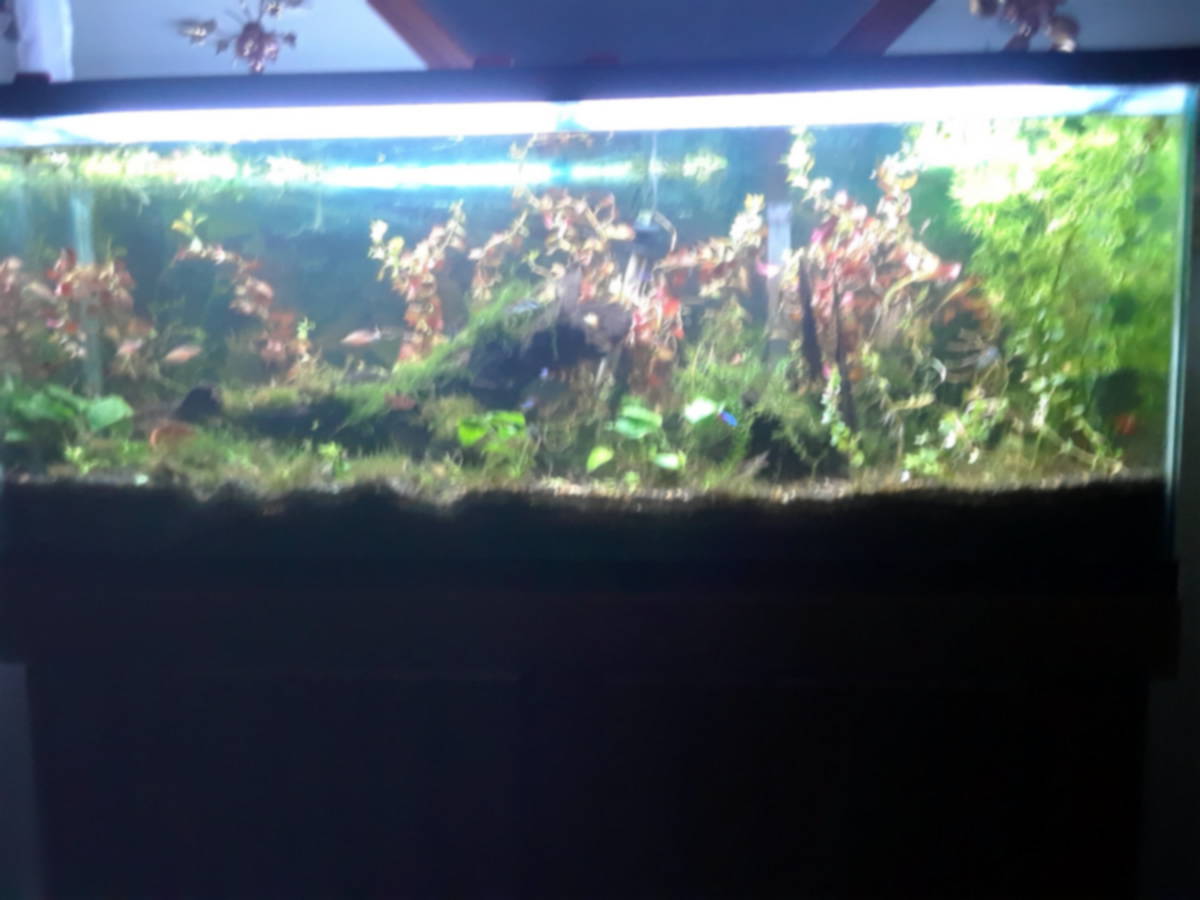 ---
DustinsFishtanks does the most awesome job at fulfilling orders and producing the highest quality in plants and snails!! You guys have a lifetime customer!
Mary C.
03/2018
Ordered plants on the buy one get one deal. I thought thet wold be the average, small plants. But was I surprised. They were larger than and store olants and they were beautiful. Lookreat in my tanks!!
Franklin S.
03/2018
---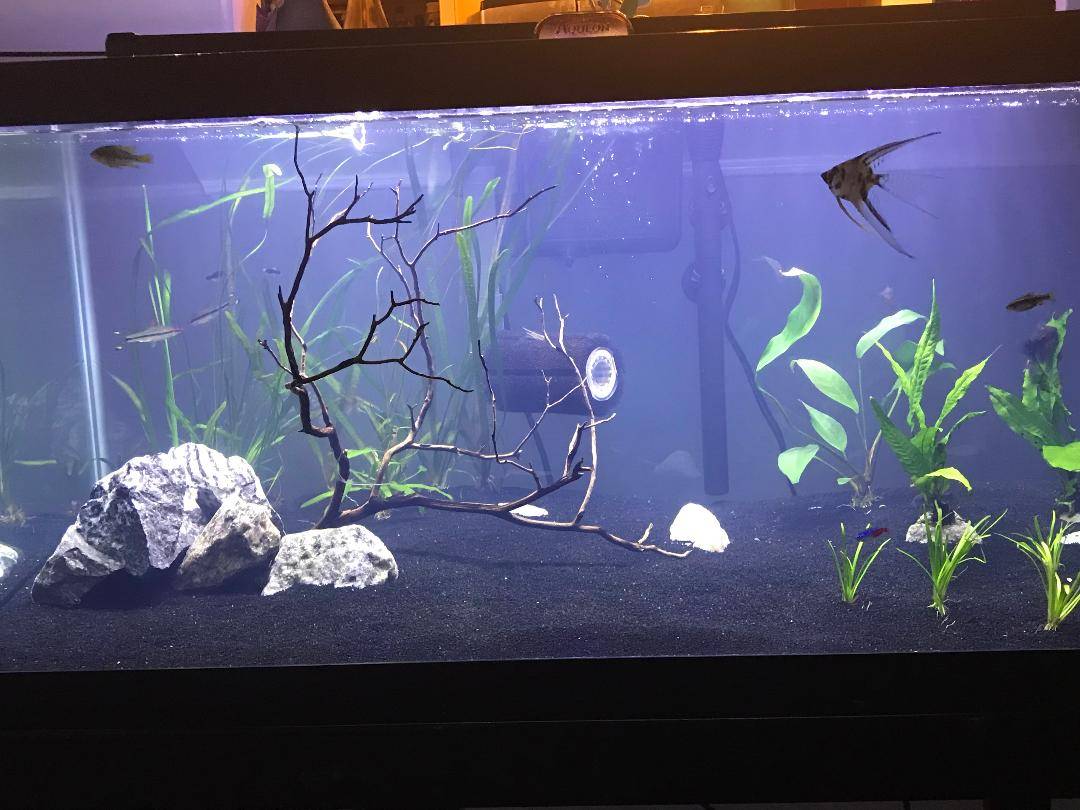 I ordered manzanita driftwood jungle, vallisneria, and dwarf sagittaria. I was very happy with my purchase the driftwood has added a lot character to my tank. I ordered one of each plant, and received much more than anticipated. Everything came in good condition healthy and vibrant.
Raphael C.
03/2018
---
Love the plants I got. All were in good condition. I split the order into two aquarium and they both look 100x better. Y'all keep up the good work. Appreciate the excellent quality !!!!.....Tank On later bro
Joseph L.
03/2018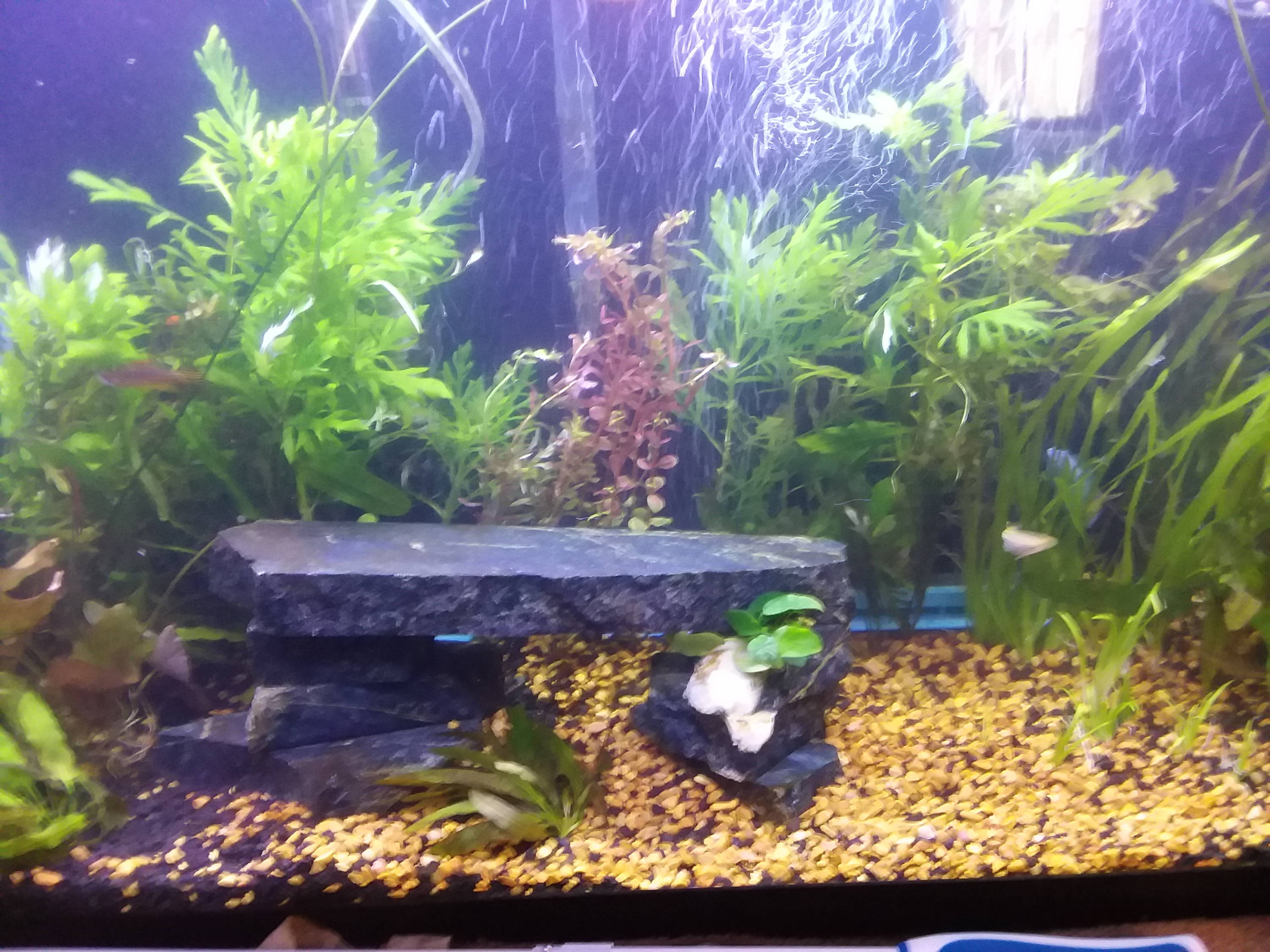 ---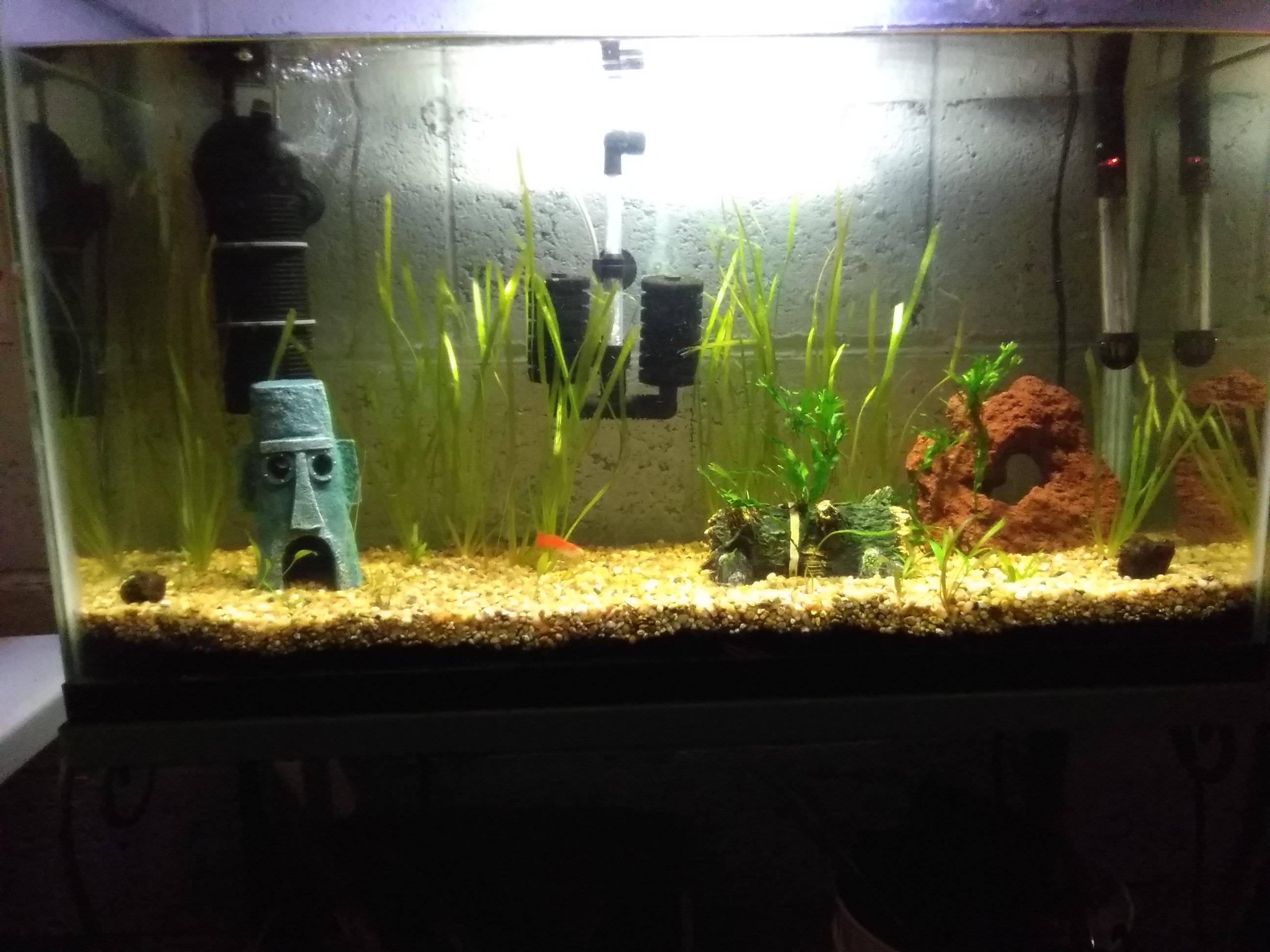 Hi, guys I just wanted to drop my man Dustin a line, Thank you so much for the great plants I got, I ordered them late Friday or Saturday night and I got them today. You guys rock love the videos keep up the good work I learned a lot and this tank is Dirted lol so I hope the Val and red tiger lotus do well, oh one other thing I don't know if I should cut the leaves on the Val or let them be oh yeah thanks for the juice to lol ok guy BE EASY.
Chris M.
03/2018
---
Great plants, great service and great value! Dustin's Fishtanks goes the extra to make sure everything is right, even replacing USPS careless handling of their product. My son moonlights at PetCo here in Pa and has been recommending your site to customers when they want something more than the box store plants. He shows them our tanks and how well your plants are doing. Keep up the great work and we hope that your new endeavor is going well. Here are some pics of your plants in action. Tank On!

Ed C.
02/2018
---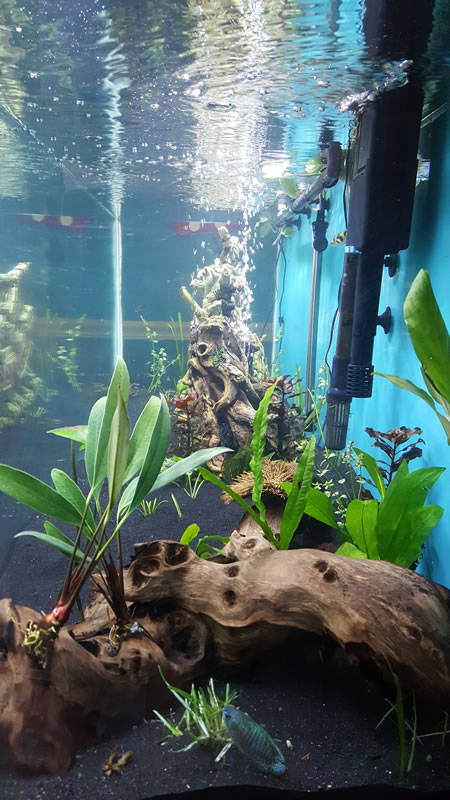 Totally satisfied with my plants. I love em all. I ordered the beginner plants. They all arrived in great shape and package was delivered sooner than i expected. I have had them in my tank for a week now. They are doing great. No melting of ANY of the plants so far. I love that i can watch the videos of the species that i purchased. Good job guys on all the hard work. Your dedicated work shows in the high quality plants that you grow. I placed another order today and stoked about getting my next order.
Tracy M.
02/2018
---
Dustin is great and helpfu and hired Josh who manages your and gets it shipped fast. My last order I got FREE Crinum with my order of Anachatis,Wisteria and swords and the were heavily rooted and very green ready for planting. I consider Dustin my Fish Tank Mentor. Hope to see you again in NJ during the summer.
Steve N.
02/2018
---
I got my order a week after ordering because it was delayed by the Post Office ( no reason given) but the plants were in good shape and are doing good at this time. I sent you a email asking if you knew anyplace I could buy water hyacinths and have not heard from you. I know you are busy but keep my question active when you have time. Thank you.
Dean P.
02/2018
---
Very good products and I am exclusively buy my plants here now
Luis R.
02/2018
---
Dope site, dope videos, dope customer service, dope plants, you just made a customer for life, you're hitting on all cylinders dude, good vibes on your future progress.
Manny C.
02/2018
---
Just wanted to send a person note, I received my Anubus order today and to say I was impressed would be an understatement. All of the plants arrived in great shape, properly packaged which is very much appreciated. I just have them floating in my 125 for now, was planning on doing a teardown and redo once I received your plants, however once I watched several of your videos, especially the ones costarring your buddy Brian I decided to hold off for a while.
As a result of your videos I have made the decision to upgrade my present filter system which consists of 2 double stacked Hydro-Sponge IV Pro filters with 2 Aqua Clear 402 Powerheads to a Fluval F4 canaster filter. I order the new filter today and is due to arrive on Wed.
I attached a few pictures of my tank, please do not judge the mess, I have two large pieces of driftwood that are new so I got them buried under other driftwood and rock, hopefully it will waterlog soon. The plants are just in there to keep them alive. Once I redo the tank I will post a new video.
Jim
02/2018
PS, you are responsible for the lack of algae in my aquarium, I contacted you in 2014 with a major hair algae problem and with some of your products and your advice I have all but eliminated the problem.
---
Maybe later. Red Clay and fertilizer was just delivered and it will take a while to see how it works
Jim K.
02/2018
---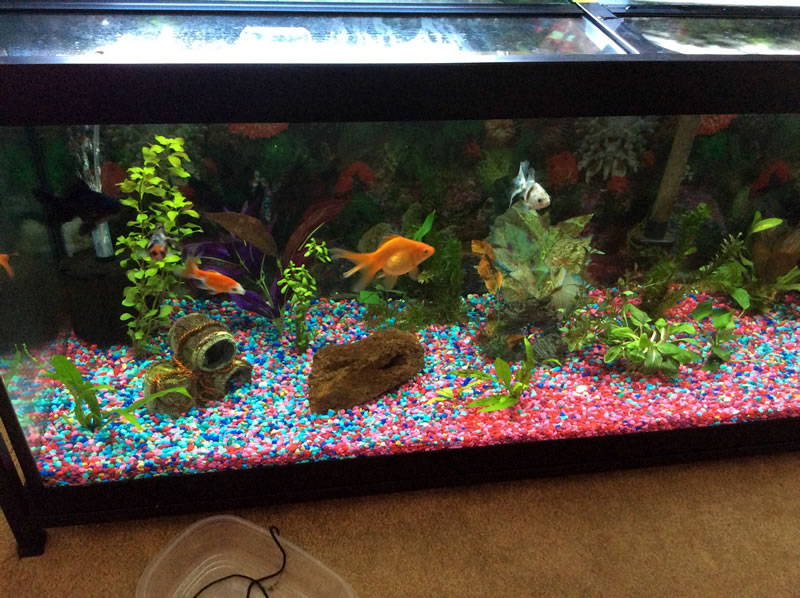 I love all the plants I got and my fish and dojo loaches do too. Now I just have to wait for them to start growing, Dustin and his crew are awsome
Helen R
02/2018
---
I'll be ordering from you next time the plants look awesome
Alan M.
02/2018
---
Dear Dustin and Josh,
I Just wanted to shoot you a video and say thanks for all I have learnt from you guys. The light and plants what can I say. The plants came in beautiful, and ready to plant. And the light, is worth the money. And I use my Dustin's juice and flourish excel and my clay I got from you and they grow great. Tank On People.
Patti F.
01/2018
---
Hey buddy great job on the show last night in fact I was at the local fish store today and struck up a conversation with a guy I noticed looking at algae supplies ( he has hair algae)and I turned him onto your web sight I also fwd him the replay email I got today he was as happy as a pig in the mud I'm so glad I watched last night to have the info to pass on next thing I need to figure out is how to text to u while your on live I'm 60 years old and still figuring out on how to use my computer Thanks again for the info.
Mike M.
12/2017
---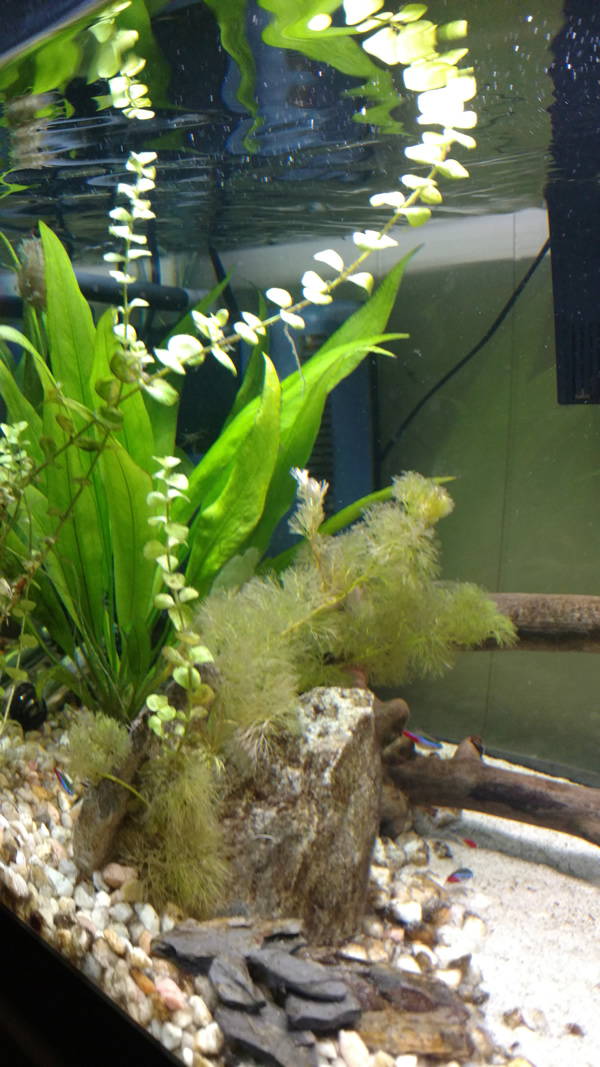 Hey, missed the sale but I thought I would send you a couple of pics of plants I have ordered from you in the past. Two tanks are straight Walmart 10 gallon complete kits and your plants have exploded in growth with no more than the lights provided in the kit. I love easy and it doesn't get any easier than that.
I am in the process of completing my fish room and I have several of your plants growing in holding tanks in clay pots. Those are awaiting the future tanks and are still doing very well. Hopefully, I will have at least 12 tanks up by the holiday break.
Your plants are in great shape when they arrive and I have had no issues with them at all growing in low light/no tech set ups. Dustin's fish tanks have made a huge difference in how I visualize my tank designs and what is possible with the right plants for an individuals skills set.
Thanks!
Hunter T.
12/2017
---
Awesome customer service, shipping, and the plants are great! Check it out for your self on my YouTube unboxing video!
River Life
11/2017
---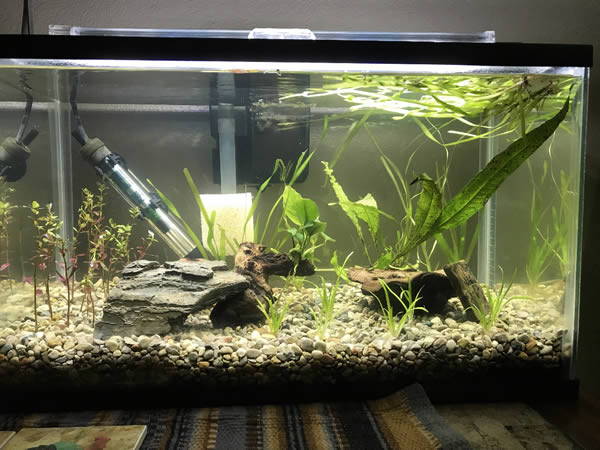 Got the Beginner's Combo for my first dirted tank. Got everything listed and more. Floating some Jungle Val to get bigger roots for planting.
All plants were in excellent shape. 2 days in, very little melting and new roots growing on all plants.
Will definitely order from Dustin's again when I get another tank!
Rick C.
11/2017
---
The package came in on Friday, but I couldn't do anything until Sunday night. I am extremely surprised and impressed with how quickly the plants adjusted. It's only been two days and they look great!

The tank still has some artificial plants that will be removed when the live ones fill out.
Shannon C.
11/2017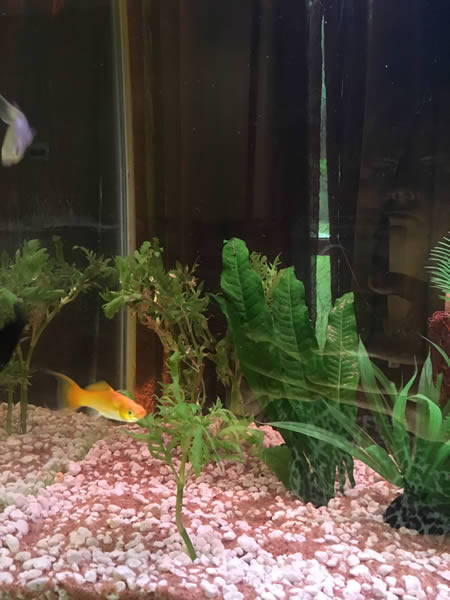 ---
Have my plants in less than a week and already seeing many with new growth. Some are losing a few leaves but that is to be expected from the adjustment to a new environment.
Gary L.
11/2017
---
I received your Aponogeton Boivinianus in the mail today and I must say I'm impressed!! I'm anxious to see how this monster grows in my community tank.

Thank you for this amazing plant and I'll see you at the webinar tomorrow.
Leslie F.
11/2017
---
Received my latest order of plants from Dustin's Fishtanks the other day. I would say that they were bigger and more than I expected, but at this point I expect no less from Dustin and his team! Well packed, timely delivery and happier fish!! Well done everyone!!!!
Laszlo G.
11/2017
---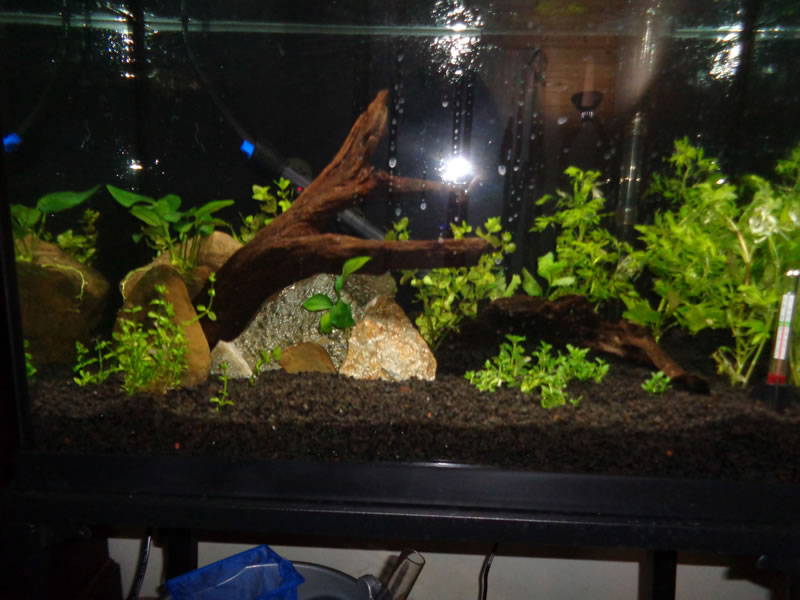 Dustin's Fish Tanks is the place to go for quality plants and advice. I knew I wanted to set up an aquarium again after being out of the hobby for a few years and I stumbled upon Dustin's YouTube site which eventually led me to his Web page. I had never used live plants before. After watching his videos over and over several times, I knew I wanted to try a planted aquarium. I spent over 2 months researching what I would need to be successful. This isn't rocket science but it does take planning. He gave me the confidence to try. My tank would be called low-tech with easy growing plants, for people like me - a beginner.

I ordered a few plants a couple weeks ago from Dustin's site. They all arrived in good shape and seem to be thriving in my tank. My tank is not a "dirted" tank but I did use quality substrate. The only reason, I didn't go with dirt was mainly a personal choice and the fact that I'm a bit messy when I fool around in the tank. As an after thought, I did buy some tongs to use when planting. Wish I'd had those when I received my plants. But I managed without them and yes, I made a mess while doing so.

You can't go wrong ordering plants from Dustin. He takes really good care of what he sells. My plants arrived in great shape, ready to go. He gives a brief description about the plants and where they would work in your tank. He like others will lead you to the easiest plants to grow. He wants to see everyone have success when it comes to this hobby. This is HUGE! Even as a beginner, your aquarium will look beautiful, using easy plants. That success will lead most of us to try to move on with other plants that take a bit more effort. The sky is the limit!!!

Tank on - Dustin! You're awesome!!
Janis T.
11/2017
---
Not too much to say so far. I have bought one plant bucephalandra, which is doing good. was happy with the size plant. Recently bought 2 standard led fixtures they look great. Am shocked at how much light it puts in my tanks. I am looking to buy some more plants soon. Would like to see more info on plant requirements such as will do ok without co2, or definately needs co2 or will melt. I recently emailed &asked about requirements for eustralis stellata, but did not get a reply. (Help me out Dustin). I run a low tech tank with your awesome lights on them.thanks.
Kathy C.
10/2017
---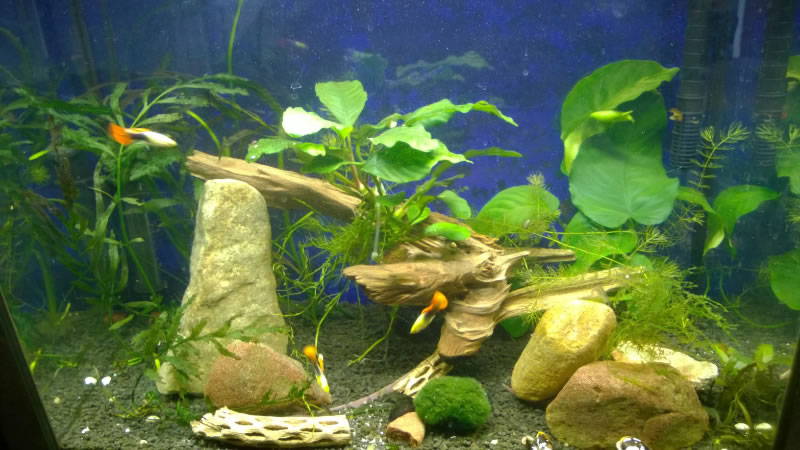 Hi, Dustin--I wasn't able to post this on the website but I still want to rave about what a difference the new lights make in my tank.
I can actually SEE everything, and all the little details. I realize there's even more room for plants now that the corners aren't shrouded in darkness! Should have done this a long time ago.
Nancy H.
10/2017
---
Hey Dustin!
I just wanted to say hi and and big thank you again for an excellent product and so much sweet deals! I can't tell you enough what a fan I am of what you guys do and how well you do it! Thanks for all that you do! I even put you guys' sticker on my bowfront.
I'm so happy!!!! Customer for life!
Mary S.
10/2017
---
Dustin!! Man thanks for the order. I have been looking at your site, watching your youtube vids and stocking your facebook (in a good way) for a couple weeks now. The other day I pulled the trigger ordering from you, and wow, I wish I would have got all my plants from you! Being that I am just getting into the hobby I opted to go to a LFS to get a few plants for my new tank. And while they were nice, that bunch of Wisteria you sent me was amazing. The Wisteria was planted in my wife's 20 gallon long classroom tank, and it looks awesome. She will also be using the Growth Juice as it is an easy way for her to fertilize the tank.
I am still not sure about snails, but I thought I would give them a try. I remember when I was growing up and my dad had a tank snails were the worst! I added all 4 to the 20 gallon, but only 2 became active. So I removed the other 2 and brought them home to add to the house tank. As of this morning 1 is active around my tank, but it looks like the other did not survive the trip to Colorado.
Again, thanks for such a high quality order. I look forward to ordering again.
Branden
09/2017
---
My plants arrived safely lol !!! they are beyond beautiful!!!! My mind was blown how big and healthy your plants your are. Thank you so much and I will definitely be ordering again:) hope you are having a great weekend!!!
Ela G.
09/2017
---
Hey
Planted tank looks awesome added clay a little bit cloudy but love it so far! I'm kind of a plant rookie so your perfect quality plants way surpass pets mart!! Thanks so much!!
You got a repeat happy customer here
Sincerely
Mary
09/2017
---
Dustin and team,
Just wanted to let you know how happy I was with the plants I received last week from the BOGO sale. The water wisteria, ludwigia and moss all came in terrific condition. The quality of plants shipped truly shows your passion for what you do. Well done!
I just started my first tank back in May, but am already addicted! After finding your videos on YT, I was convinced I needed to dirt my tank and get some plants from you. I placed my first order a few months ago.
I got the plants last week to set up a new 20g tank(I tricked my wife into letting me get a 2nd tank). The plants look terrific in the tank, I can't wait to get some fish in there with them! Had it cycling for a while now, just need to decide which species to add.
Thanks for the plants, as well as all the videos. I'll definitely be back to buy more!
-Thom B. 09/2017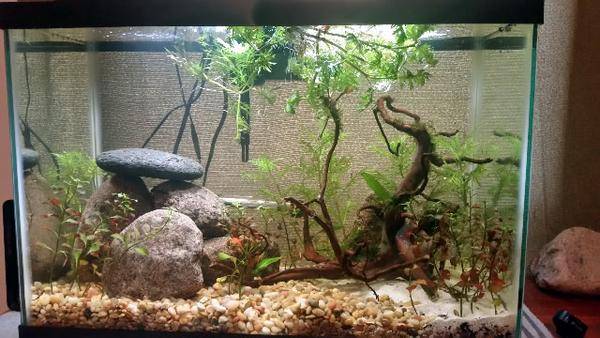 ---
---
THANKS DUSTIN For Thr PHAT ORDER! Wu!

Dustin I most def will tank on and oh man thanks for the Phat plant order you hooked me up big time! I love all the Val you hooked me up with... And the Tiger lotus plants and bulbs you got me as a life time customer ... Everything was beautiful ill snap a few pics when I get my set up right. I am up to 11 tanks 8 running started a few plant grow out tubs .... I told my boss at "A Sea Life" (Coal) and brought a few of your plants to him (3val, handful of hornwart, and 2 tiger lotus bulbs) all displayed in his planted tank... Next order I make will also include and order for him too... This fish store is the best place in St Petersburg and Clearwater area so we get lots of biz.... Thanks again brotha... You are a great tanker and credit to this hobby ... Really appreciate the Phat order and the personal note you hand wrote... You are very dedicated and hope to meet you if I ever get a chance to go tonone of these events....
Wu L.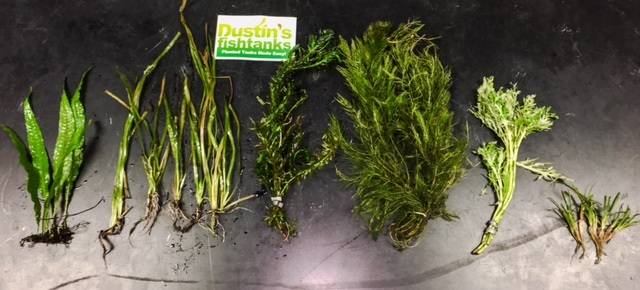 Plants are great my brother...thanks so much!
I'm very happy and you have a new customer for life.
I posted a review on the dwarf sag and Jungle Val.
Here is a pic of the awesome plants you sent me...thanks again!!
Tim H. in Florida
---
---
Hi Dustin,
Just wanted to give a shout out to say thank you for your extra attention to our order. Loved the extras!
We have just set up our first 220 Gallon Planted tank and had planned on shopping around for plants. I am thrilled to say that after our wonderful experience with you and your site, we will hang here for all of our plant needs!
Thanks again,
Kathy Jo and Scotty D - Tank On!
---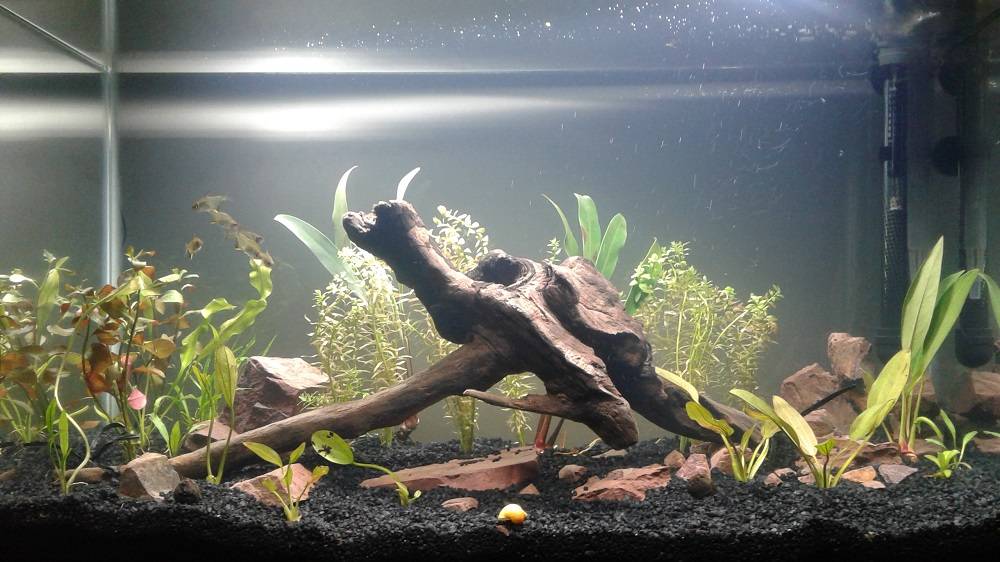 Here's a shot of my 30 with the plants from my 1st order. The stoke is high! No melting, just growing & looking good. Can't wait to add the Clay!
Sean M. in Vermont
---
You provide great service and prompt response!
F. Morris
---
---
Service is great even when I am a big pain in the butt and cause problems ;-)
Cameron B.
---
---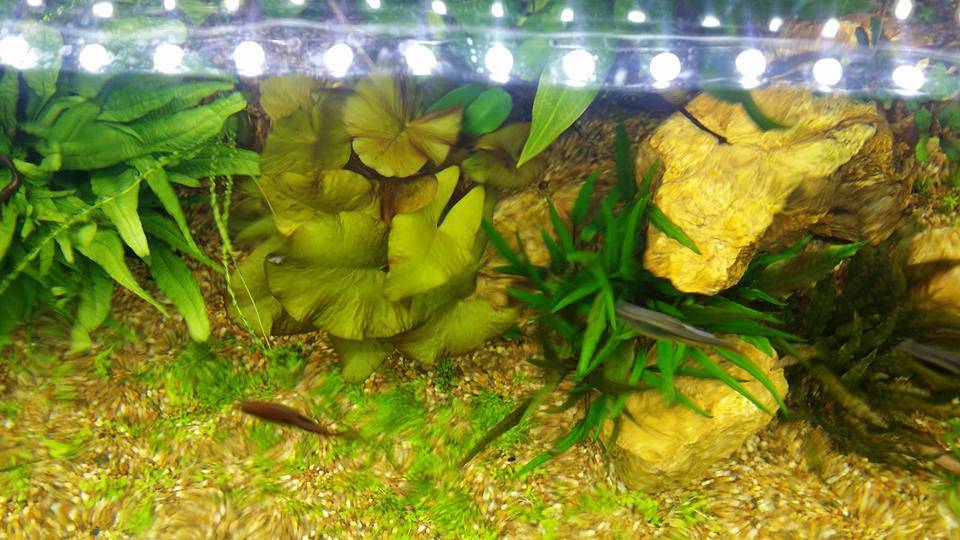 2 1/2 months in.. no question Dustin your lights are the shit... I couldn't be happier with the results.
Travis N.
---
---
Just wanted to say I've been following Dustins channel on YouTube and I love all the advice and his whole persona. Ordered my first order of plants from the site including a single bunch of wisteria. And these plants had to look awesome prior to being shipped because they still looked awesome when I got them in the mail. Will definitely be ordering more plants and some iron soon! Thanks again Dustin happy to give the support!
Derek S.
---
---
I love this anubias nana, I just tied it up to a piece of petrified wood and plopped it in the tank, it doesnt like swings in chemicals, so be sure if you're dosing not to stop or it will yellow. Its a slow grower in my opinion, but I have hard water, but its seems to not die easily.
Edward D.
---
---
Could not be happier with my purchase. Order received in great condition with nice Healthy plants. Started out with 1 Order of rotala and it has multiplied quickly.
Michelle A.
---
A must have if your thinking about aquascaping any driftwood. This plant really stands out, the condition of it was amazing upon receiving it.
William M.
---