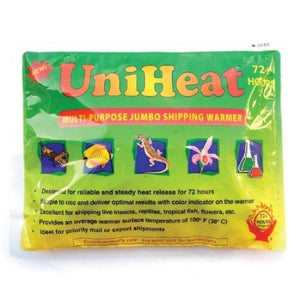 Heat Pack 72 Hour
Do you want to make sure your plants, snails or shrimp keep warm on the trip? 
Better grab a heat pack.
NOTE: These are a must for anyone, anywhere cold.  We are providing them at our cost as well to make sure your stuff is protected for 72 hours.
Grab a heat pack NOW. (Why risk it?)



Love it
It was still warm when I go it.
Worked as needed!
Thank God for heat packs to keep your plants safe in cold temps! I alway receive my plants from Dustin in great shape all year round! Well packaged, heat provided if needed and arrives quickly! Thank you!
BITCHIN'
Red AF and healthy. Only store I will buy from.
Well I'd love to give a review but I have not received my plants yet there were supposed to be here yesterday and they got mixed up in delivery now they won't be here till Monday 😮‍💨
Heater pac
I payed for a heater pac with my last order.The plants came on time and in great shape BUT there was NO heater pac.